Welcome to Inn Mahogany Creek
INN Mahogany Creek : Located in the beautiful hills setting, from humble beginnings this wayside inn has been a preferred eastern hills destination for travellers for over 180 years.
Trading Hours
Currently Closed as per Federal Gov't new law to limit the spread of Covid-19
Stay Safe & Well while we hibernate
Today Opening Update : 16/05/2020
Yesterday a devastating car accident happened on the doorstep of our family owned hospitality venue.
Firstly our condolences to the family & friends of the young lady who passed. Our well wishes for speedy recovery to the young lives effected & in hospital suffering the trauma or life threatning injuries from this horrific crash.
To our many loyal patrons asking reopening times, The WA Gov't Covid-19 approval allowed hospitality to resume limited service operations from 18th May 2020. However in light of this recent tragedy our response is to stay closed to show a sign of respect for the grieving families & friends involved. Our boutique Inn & lodge will therefore remain temporary closed till further notice.
where is the Inn?
The Inn is located approximate 40 minutes drive from the Perth CBD and 30 minutes from Perth Airport.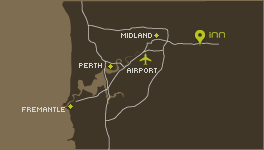 Address
4260 Great Eastern Highway
Mahogany Creek WA 6072
Australia