Welcome to Inn Mahogany Creek
Visit Inn Mahogany Creek and take in the rich tapestry of experience that has made our Inn a WA favourite for over 180 years. With all the charm of its wayward cottage tradition, fused elegantly with the comforts of modern life, you'll return year after year to sample our fine food and taste our great selection of wines, beers and cocktails – all whilst basking in the serenity that defines Inn Mahogany Creek.
Trading Hours
Monday CLOSED
Tuesday CLOSED
Wednesday 4pm till 10pm
Thursday 4pm till 10pm
Friday 12 noon - till late
Saturday 12noon - till late
Sunday 12noon - till 8pm
where is the Inn?
The Inn is located approximate 40 minutes drive from the Perth CBD and 30 minutes from Perth Airport.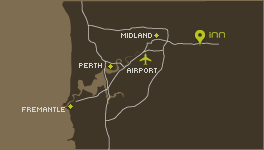 Address
4260 Great Eastern Highway
Mahogany Creek WA 6072
Australia